"87% of workers worldwide are emotionally disconnected from their workplaces and less likely to be productive." GALLUP
Our workplaces are burning out workers. High stress and disconnection from self and others is stifling visionary thinking, effective collaboration, and overall well-being. The skills to work with our emotions and other people are essential to building a strong culture, but rarely developed or supported in wellness programs.
Most corporate wellness programs focus on physical aspects of well-being and completely neglect emotional wellness.  Yet, research shows that the benefits of emotional wellness improve:
Overall health & well-being
Communication & collaboration
Stress management & emotional resilience
Leadership & visionary thinking
So how can YOU lead meaningful and impactful change for your business?
wellRooted
wellRooted is a creative corporate wellness program that uses experiential activities to cultivate emotional wellness.  In an environment free of judgment, your team will awaken to the importance of self-awareness, empathy, and compassion through the use of the following art forms:

With an emphasis on process over product, wellRooted is for everyone.  There is absolutely NO experience necessary to participate.  We us art forms to encourage a creative release in every session.  Not to mention, it's incredibly fun!
why wellRooted?
"Self-awareness is not a soft skill, a nice-to-have.  It's playing out in your bottom line." DANA LANDIS
Emotional wellness is essential to self-awareness.  wellRooted provides guided expression sessions that spark authenticity and connection, giving people a toolkit to navigate opportunities and challenges with more clarity and resilience.  It's all about helping people see their inner capacity to create, collaborate, and lead so they can perform at a higher level.
90 % of recent participants reported that wellRooted sessions helped them communicate their emotional state with clarity. ROOTED CENTER
benefits of wellRooted?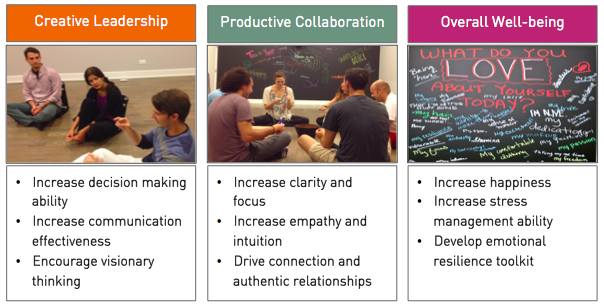 how can YOU get wellRooted?
Bring us onsite to experience wellRooted as a 6-week series exploring the effects of all of the different art forms or become a leader in corporate culture and make emotional wellness an essential, ongoing part of your wellness program for years to come.
CONTACT US to learn how to bring a FREE wellRooted trial session to your workplace