STEP 1: Get Grounded
become emotionally self-aware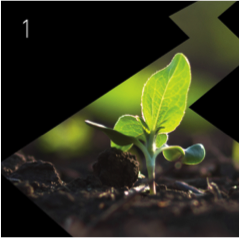 It's scary to get dig into ourselves to see how we feel.  We are weary of what we might discover.  So we spend a lot of time distracting ourselves from ourselves.
Seeing ourselves and our emotions can get us access to our true self and help us stand in our own wholeness.  This isn't some fluffy statement, there's actually a lot of logic behind it.
Our minds continuously take in and store a lot of information. Emotions act as flags to allow us access to this enormous amount of information quickly. Emotional flags are our friends and pathways to let us see what is truly happening for us, yet we ignore them when they pop up because our western society has not trained us to look at them as a great source of personal information. Ignoring them leaves our bodies in stress and leads us to act from built-in, reactive assumptions or external expectations rather than real information. In essence, we allow our untrained minds to drive our lives.
This course is designed to help you identify emotional flags and lay the groundwork for emotional awareness so that you can begin to discover and know your true self and have power over your own mind and actions.
What you get
Playful and creative tools to "get in" to yourself
Consciousness about what holds you back from feeling your emotions
Ways to create a safe space with love and acceptance to feel fully
Experiences to build up your emotional vocabulary (language, physical, sensory)
Tools to consciously process your emotions
How we do it
Trained facilitators will guide you in individual, partnered, and group setting. The environment will be judgment-free and empathetic with encouragement to stay true to yourself and know and trust your own process. Carefully designed activities include the following:
Playful games and experiences to make the hard things easier
Interactive discussions and demonstrations rather than lectures
Visualizations to gently tap into your emotions
Visual art exercises to peel away barriers
Expressive writing exercises to internalize and explore experiences
Tools to integrate what you learn into your everyday life